A few more dresses coming your way, 'cause I am in a good mood-- hello, weekend! :D
#19 Vintage tea roses floral dress with stark white collar
- Fits size 6-8 best
- This is a really pretty dress, and best of all, you will not find the same thing anywhere else! ;)
- Great cut as well, something I really appreciate in vintage clothes, which normally require alterations!
For more pictures, click
here
.
-SOLD-
#20 Green bustier dress with zebra print skirt and attached long sash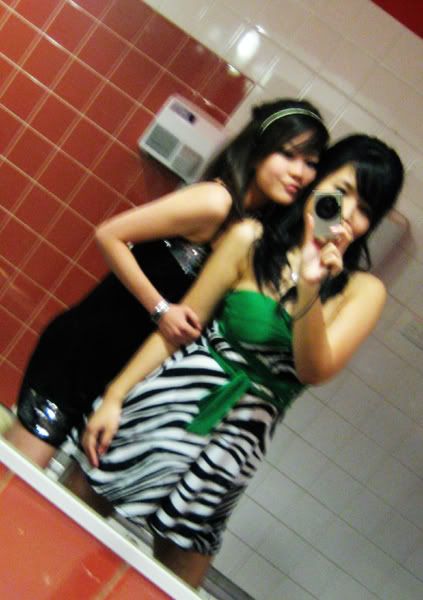 - Size S (fits size 6 to small 10)
- The best part of this dress is the looong sashes that are attached - you can criss-cross around your waist (which is what I did), tie it around your neck
ala
halterneck, twist it around like a grecian goddess... The possibilities are endless! The result? Many different dresses! :P
- The bustier is padded, so you can choose to go bra-less! Else, wear a bra for a little extra vavavoom. ;)
- The
rawrrr
animal print skirt is swishy and happy, perfect for a night on the dancefloor, or a happy shopping trip. :D
For more pictures, click
here
.
-SOLD-
#21 Deep-V black dress with floral-patterend laced front and trimmings
- Size S
- A demure, girlie dress, but with a subtle seductive appeal due to the peekaboo lace details! ;)
- A classy LBD, versatile enough for any events!
For more pictures, click
here
.
Price:RM60
-SOLD-


Email me at
crescent_masquerade[@]hotmail.com
. :)